Welcome!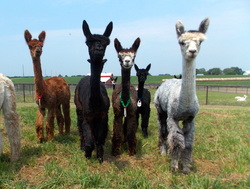 Hasselbring's Harmony Ranch specializes in the rare and elegant Suri alpaca: beautiful blacks, grays, and other rich colors. And, some incredible whites!
Located just outside of Concordia, Missouri, the farm is home to over 140 alpaca. Our goal is to breed for luxurious fiber and excellent conformation, improving on each generation.
Whether you're interested in entering the special world of alpaca ownership, adding to your own herd, or just learning more about these wonderful animals, we welcome you to our farm. We are committed to helping you achieve your goals!
Please
contact
Britt or Patty Hasselbring to arrange a visit. If you can't visit in person, please call us at 816-769-3939. We love our alpaca and we love to talk about alpacas!
---
---
Tikanui - 2015 Light Herdsire of the Year!!

Pucara Puresuri Tikanui has proven himself to be a fabulous stud. His offspring have won over and over again in the show ring, and will be starting the next generation of offspring soon. Tikanui has consistently scored in the top 1% of EPDs in the United States. He has fabulous fleece, outstanding presence, and a calm, easy going personality that we see in most of his offspring.

Tikanui's Offspring
Here are just a few of Tikanui's offspring. He was 5 times the first place winner in Get of Sire competitions in 2015 alone, demonstrating outstanding ability to stamp his excellence on his progeny.

Suri Herd Improvement Program Classification


In February 2014 our ranch participated in the Suri Network's

Suri Herd Improvement Program

.

Certified classifiers came to our farm and spent three days looking at every alpaca on our ranch and rating them on eight conformational characteristics and eight fleece characteristics. The results? We obtained expert input - unique to each animal - that will help us as we make breeding decisions. Our herd information will also help build a data base of all Suris in the country, so that EPDs can be calculated for Suri alpacas. Participating in the Suri Herd Improvement Program was, without a doubt, a wonderful investment for our farm, our alpacas and their future generations, and for the US Suri herd.

---

Discover Suri Alpacas!


This video, developed by the

Suri Network

, is a wonderful primer to Suri alpacas!

---

Japanese Feather Cowl

Our

farm store

features beautiful shawls, cowls, scarfs and hats.

We are proud that

all products are made with Suri alpaca raised on our farm. We have the fiber processed at a mill in the United States, and all knitting is done locally.

Soft, buttery, and super-warm! Feel for yourself why alpaca is a luxury fiber!

---

Reserve Suri Breeder of the Year - 2013, 2014, 2015 and 2016!


We are proud to have been named the Reserve Suri Breeder of the Year for the third year in the row! This award is given as a result of The Futurity Show and is among the most coveted in the alpaca industry. In 2013 and 2014, our classification was as a medium farm. In 2015 and 2016, we were awarded Reserve Suri Breeder of the Year in the Large Farm Division.


---

---

Amanda


Amanda is a beautiful girl, born 9/14/15 to our Lenoxx. She is named for Amanda Brady, a beautiful young lady who passed away at the age of 13 on 9/22/11. Amanda Brady loved animals and wanted to own an alpaca someday.

The Purple Peace Foundation was founded in memory of Amanda Brady, in order to promote awareness of epilepsy.

You can learn more about Amanda and the Purple Peace Foundation at

www.purplepeacefoundation.org

.

---

---

Harmony Ranch In the News....


Check out our

local newspaper coverage!
And, see a clip of KMOS public television's Show-Me Ag program... they produced a whole half hour show on our farm and shearing day. You can see the on-farm segment on our blog, Harmony News!


---